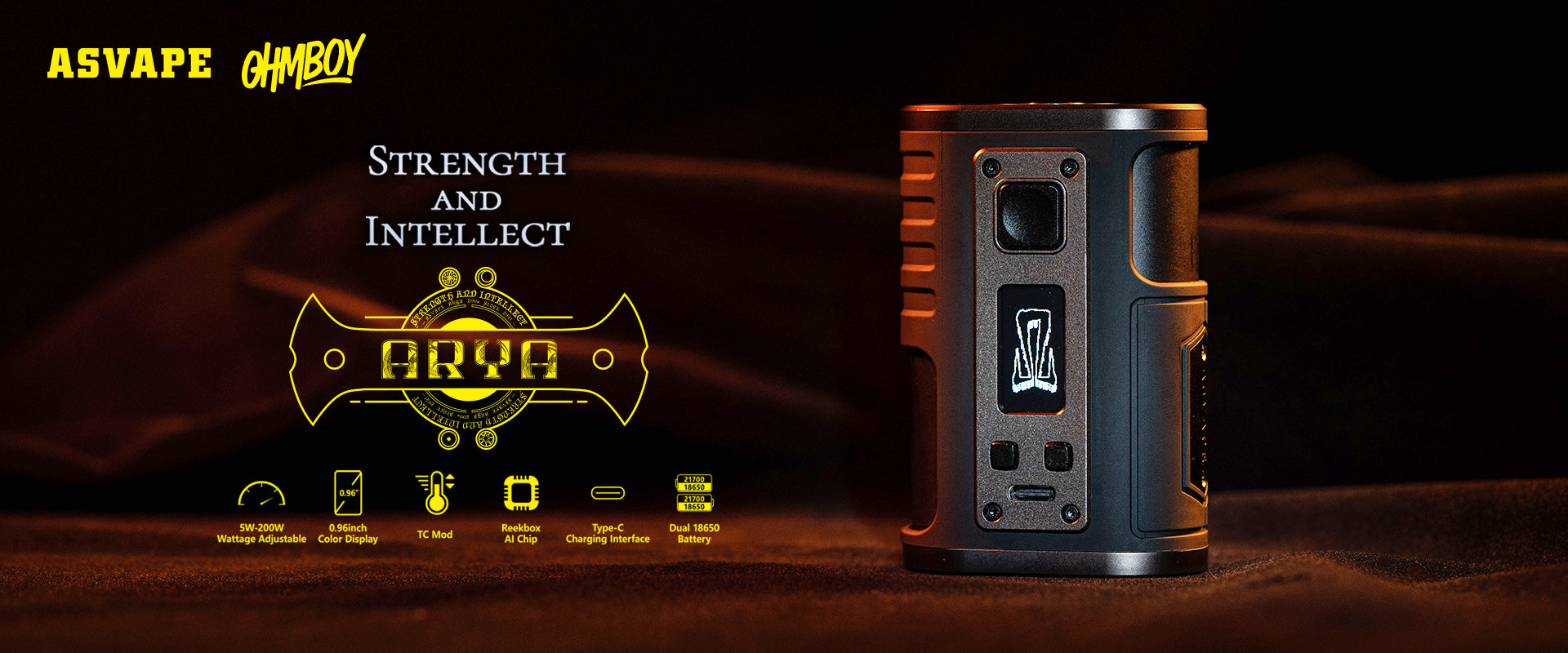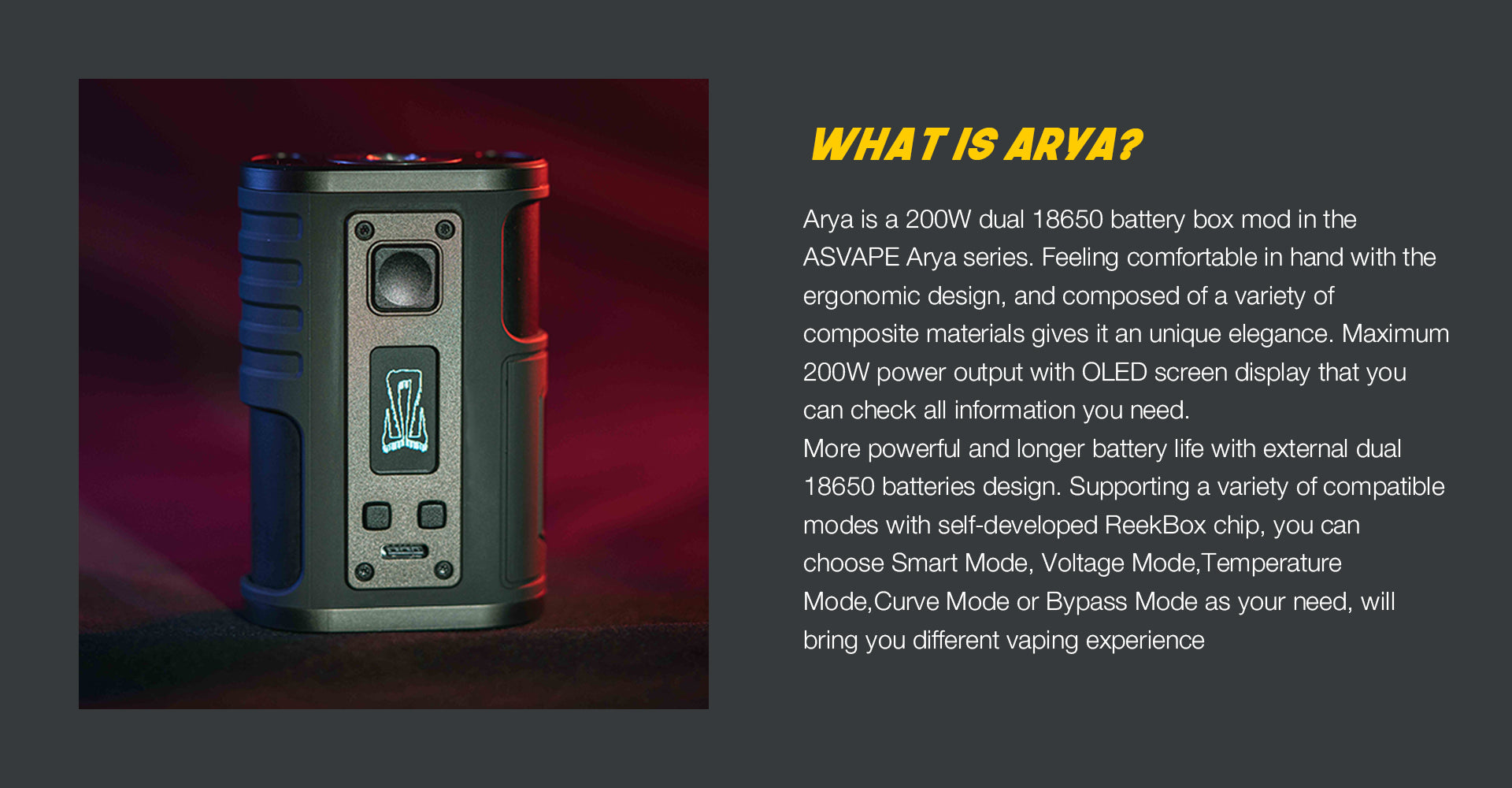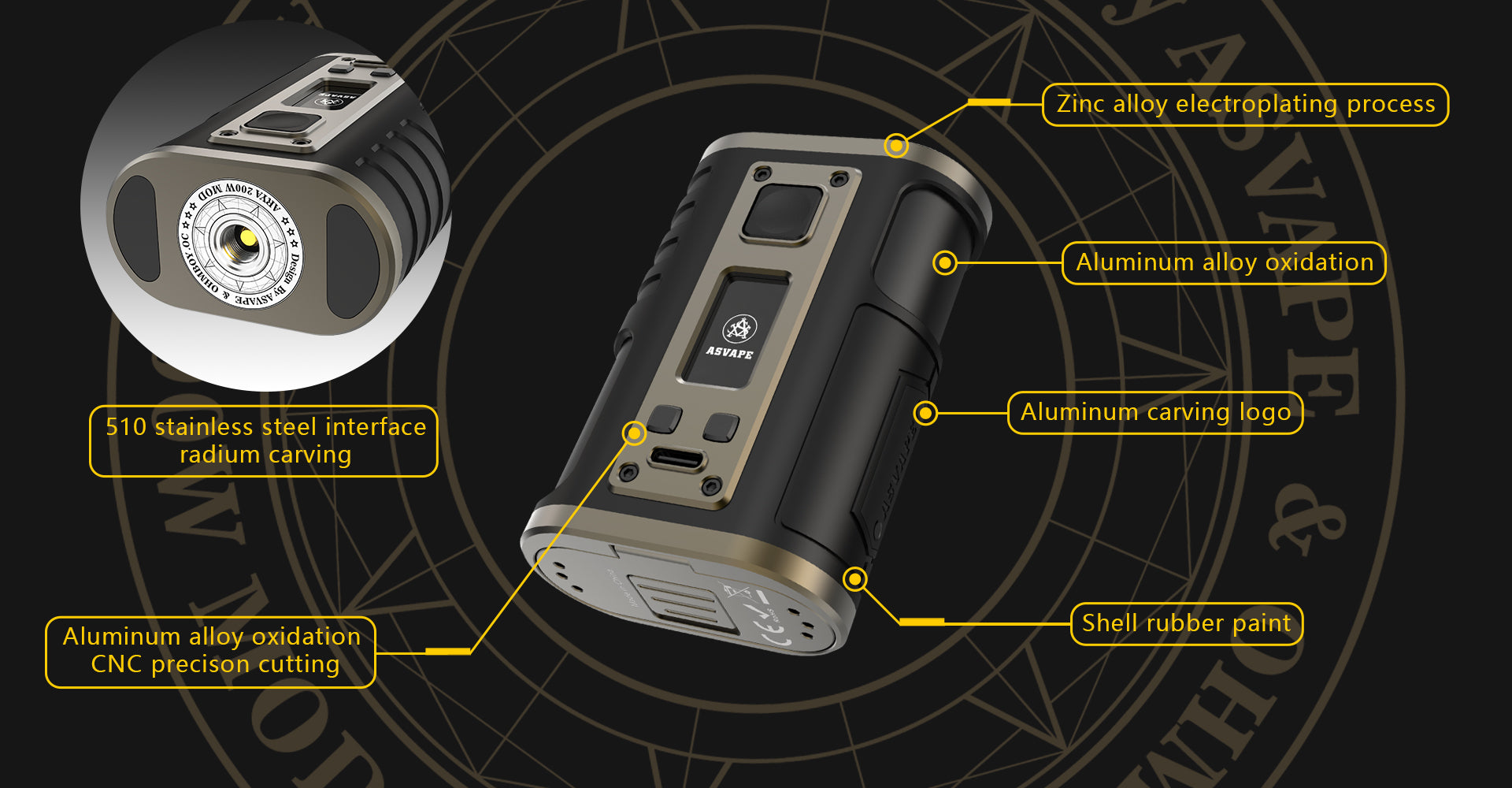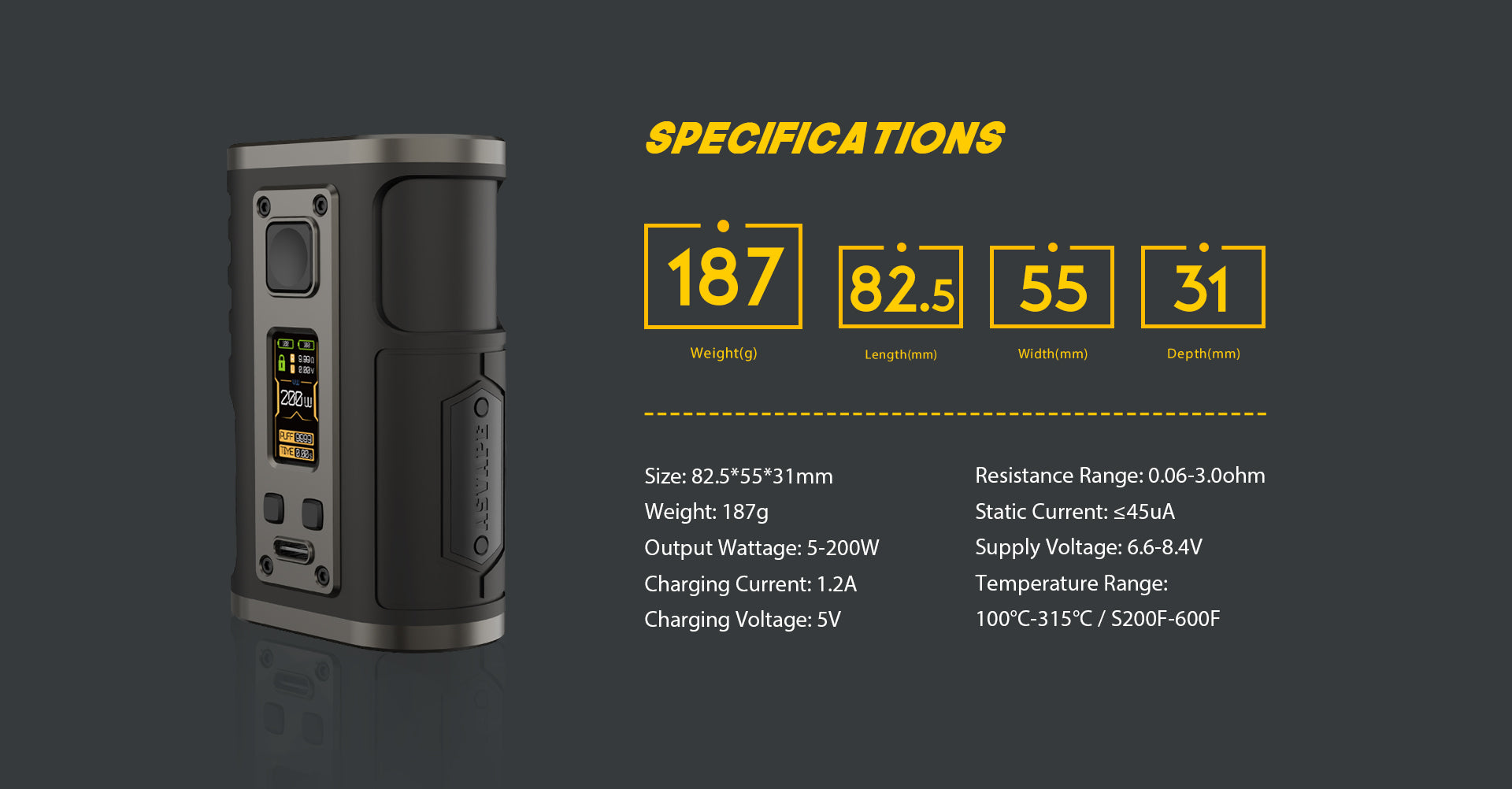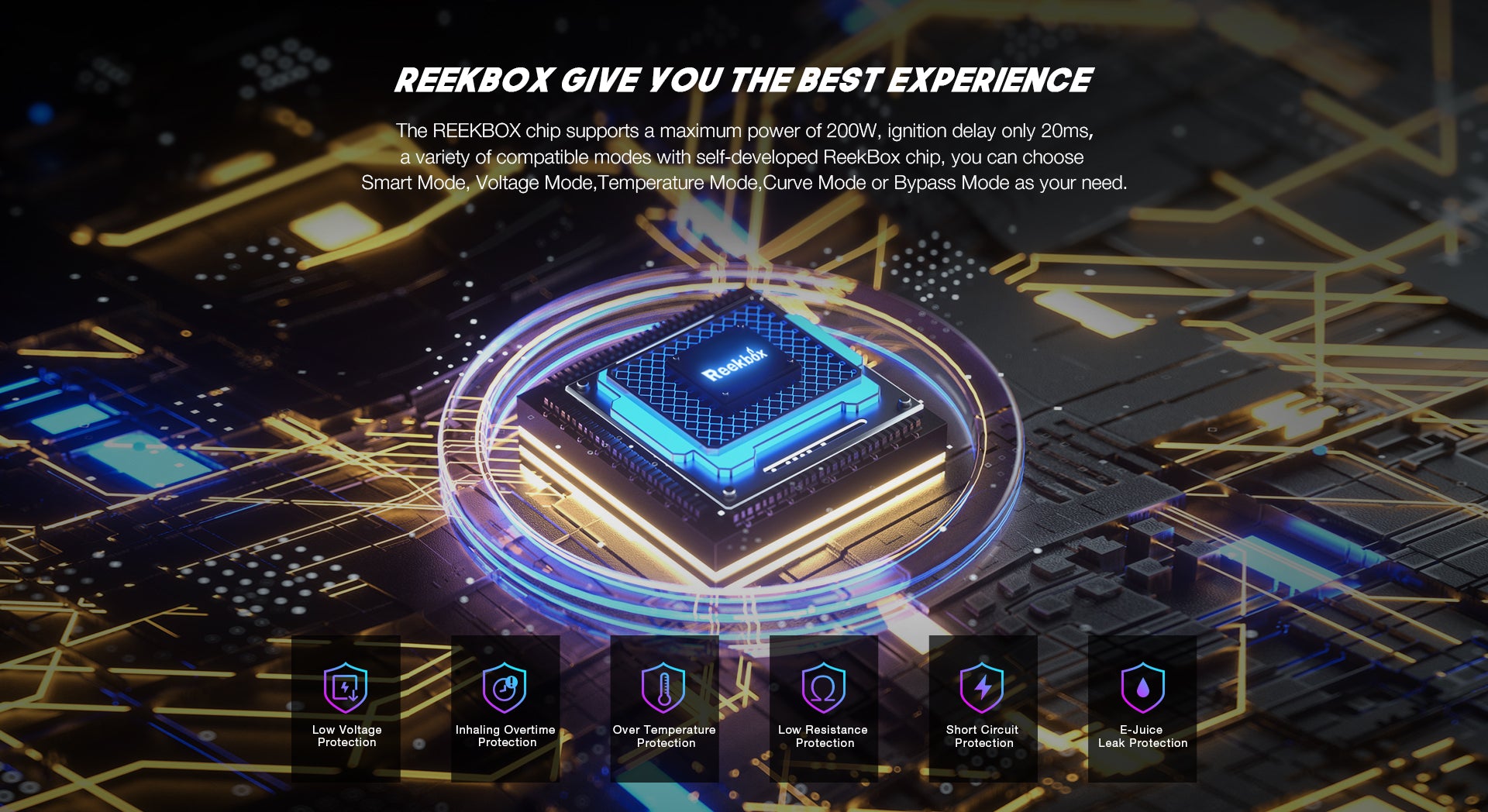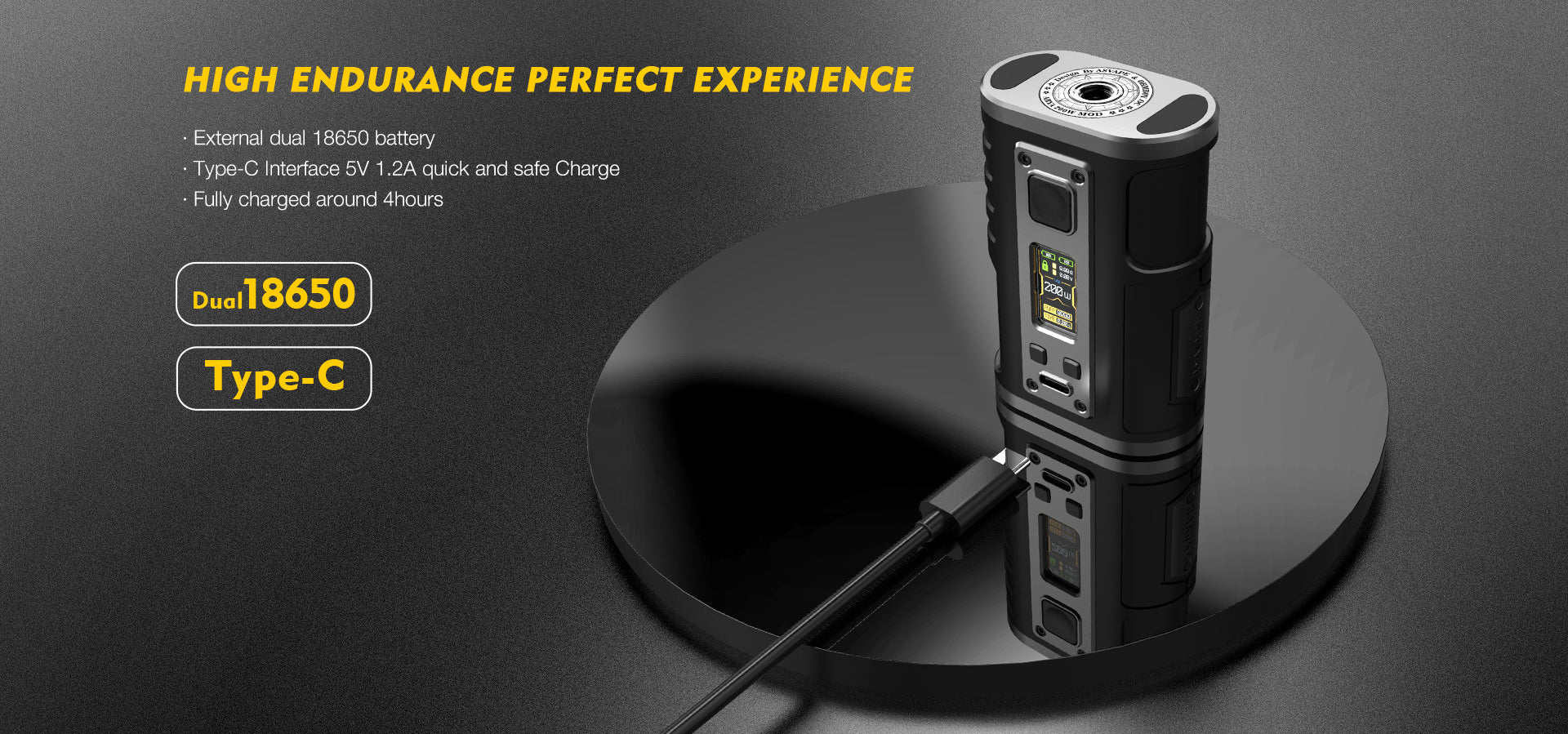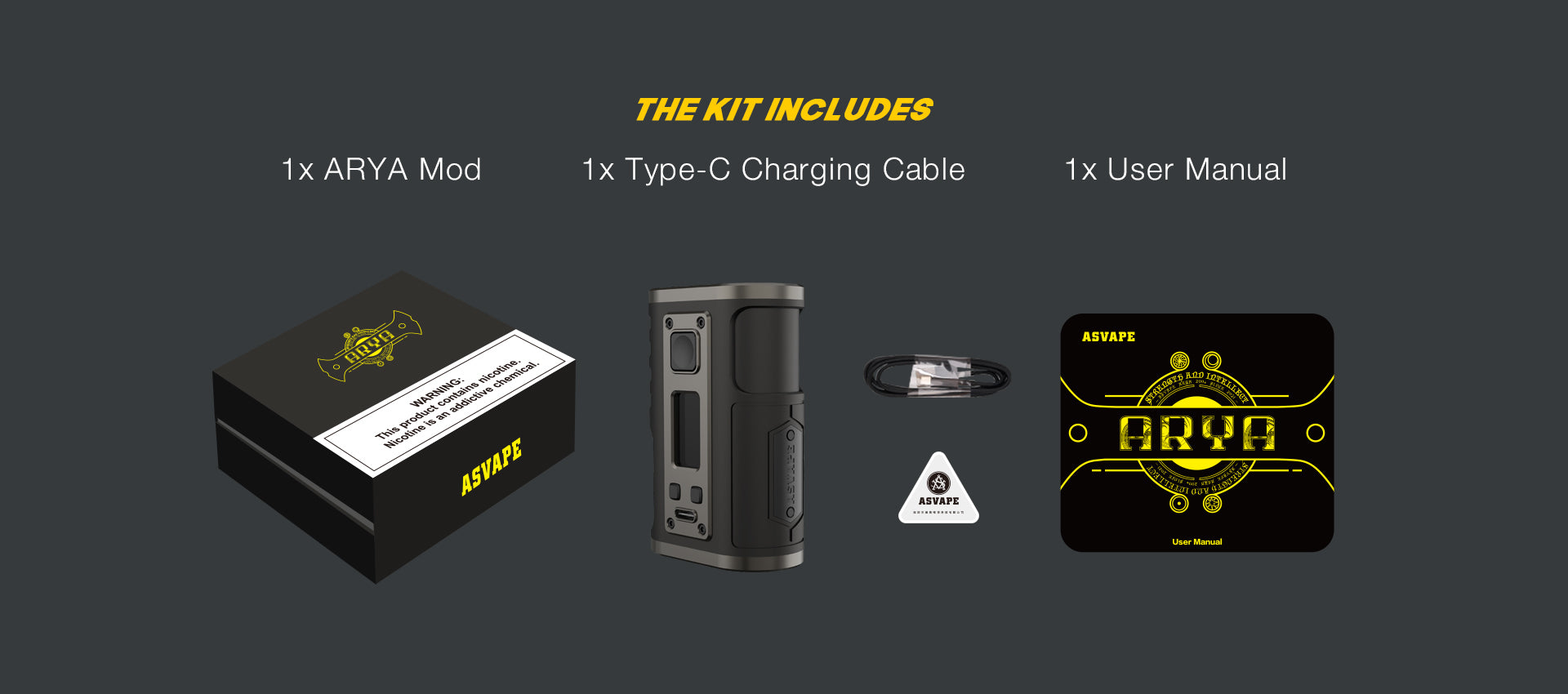 SPECIFICATIONS:
Size: 82.5*55*31mm
Resistance Range: 0.06-3.0

Ω

Weight: 187g
Static Current: ≤45uA
Output Wattage: 5-200W
Supply Voltage: 6.6-8.4V
Charging Current: 1.2A
Charging Voltage: 5V
Temperature Range: 100℃-315

℃ / S200F-600F
PACKING LIST:
1× ARYA Mod

1× Type-C Charging Cable

1× User manual
ORDERS, SHIPPING & TRACKING
Q: How do I make payment?
A: Now we accept TT only.
Q: What's the delivery coverage?
A: Our business is for all countries in the world, but delivery is not available in some countries because of COVID-19 and local regulation and laws on e-cigarettes. Current delivery areas include the U.S, Europe, UK, South Korea, Japan, Indonesia , Malaysia, Thailand, Philippines, China, Cambodia. If your country is not included, please contact us before purchase.
Q: Available delivery methods ,fees and ETA?
A: TYPE OF SHIPPING:
*Free Delivery:
If your order over $60, you can enjoy free shipping,but according to different countries, the delivery time will be different.
Shipping time: 7-15 business days
*Standard Delivery($15):
US / Arrives 15-30 Days
Europe, Canada / Arrives 15-30 Days
Asian countries / Arrives 10-30 Days
*Express Delivery($20):
US / Arrives 7-25 Days
EU / Arrives 7-25 Days
Other countries / Arrives 7-30 Days
The U.S. overseas warehouse is under construction ...

Q: Can I cancel order?
A: All cancellation requests have to be submitted before shipment. Please contact us via email or online customer service as soon as possible. No cancellation after shipping out.
Q: Can I change mailing address, order details or retrieve packages?
A: Under certain circumstances,a request to change order details is acceptable. If you need to change your order details, please contact our customer service for more help.
Q: How to track my order?
A: Please click "track order" on the website.
ABOUT MEMBERSHIP
Q: How to register ASVAPE membership?
A: You will automatically gain our membership once your first order is completed.  
COOPERRATION
Q: About Dropshipping
A: Please visit "Dropshipping" on the website.
Q: About Distribution Alliance 
A: Please visit"Referral Program" on the website.
Q: How to Become a Distributor? 
A: Please visit"Wholesale" on the website. 
PRODUCTS & FIT
Q: How to download firmware update?
A: ASVAPE current offers firmware updates for TOUCH and MICHAEL. Please click " Firmware Update" to download.
Q: How can I prevent coil burn? 
A: 1. If it's your first time filling the pod/coil, wait up to 5 minutes for the coil to prime;
2. Always make sure you have enough e-liquid in the tank;
3. Don't chain vape;
4. Higher levels of PG might help;
5. Begin with a lower wattage setting and gradually work your way up;
6. Replace your coil regularly for optimum performance;
7. Keep your tank and coils clean to prolong lifespan and avoid burnt tastes;
8. Avoid extreme temperature change exposure for your vape.
Q: How do I use the coil/pod and choose the e-juice with right PG/VG correctly? 
A: 1. If it's your first time filling the pod/coil, wait up to 5 minutes for the coil to prime;
2. Replace pod/coil after 4-5 refills;
3. 0.3-0.5Ω coil,better use e-juice with PG:VG ratio between 50:50 and 30-70;
4. Above 1.0Ω, better use e-juice with PG:VG ratio between 50:50 and 40-60.
Q: How to stop your vape tank from leaking? 
A: After thousands of tests,our pod will not leaking in normal use,but make sure every part install correctly . Note that condensate and leaking are not the same problems. 
Q: How should I maintain my device? 
A: 1.Please place the pod and the device separately if you do not use it in a short period.
2. Please avoid charging the device with an unmatched USB cable.
3. Please avoid extensive sun exposure, soaking in water, falling and bumping.